Ariane Renée Jacobs (née Chevalier; born January 19, 1987) is a French glamour model, professional wrestler, professional wrestling valet, and business woman, better known simply as Ariane. She is signed to WEW where she mostly appears on their Animosity brand along with her husband.
Professional wrestling career
Edit
World Elite Wrestling (2011–present)
Edit
Debut and singles competition (2011–2012)
Edit
Ariane was the first ever Revolver Match winner. She also competed in WEW's first all female world title match.
Various storylines; Hiatus from the ring (2013–2014)
Edit
Managing Lukas Jacobs; Second hiatus (2014–2015)
Edit
Personal life
Edit
Chevalier was previously married in 2009 for 60 hours before the marriage was annulled before the honeymoon ended. Chevalier filed claiming "spousal abuse".
Chevalier was previously in a relationship with Adrenaline Assistant General Manager Michael Harris. Ariane gave birth to twins on May 6, 2014. It was revealed in the summer that Harris was not the father of her twins: Dominic Andrew and Delaynie Amelie.
Chevalier revealed in February 2014 that she was currently dating model and actor, Lukas Jacobs after meeting him in early January. In May 2014 the couple announced their engagement, marrying on May 21. In June, Lukas adopted Ariane's kids having been there for their birth. The couple would wed a week later while in Las Vegas, Nevada before having a second ceremony on July 25, 2014 in Paris, France where various friends and family attended. The twins played the roles of flower girl and ring bearer.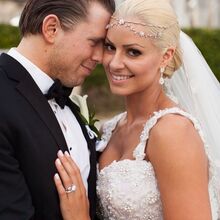 On the Sept. 22, 2014 edition of WEW Animosity, it was revealed that Ariane & Lukas were expecting their first child together. It was later announced that their child was going to be a boy who they were going to name Lukas, Jr. Ariane gave birth to a heathy 8 lb. boy on May 4, 2015.
In wrestling
Edit
Championships and accomplishments
Edit